If you run a blog, you'll want your writing to be shared in many places. I share Twitter and Facebook as a basis and look for other things, so I'd like to find out about the flipboard magazine I recently learned.
Flipboard is a service that allows you to collect and view interested topics and share them. Because there are more foreign users than in Korea, there is a disadvantage that there is little inflow into blogs.
However, the reason for sharing is to increase the number of visitors, but it is also for SEO optimization by creating backlinks, so even if there is no inflow into sharing, it is recommended to continue.
1. Backlinks
Since Google and Naver are measuring backlinks, many people share their posts or leave links on SNS, sites, blogs, and cafes to get better grades.
Regarding backlinks, it can be viewed as content diffusion statistics on Naver, which shows why it is good for SEO (search engine optimization).
Backlinks are HTML links used by other sites to refer to content on my site.
Content proliferation is a statistic for backlinks, and if you receive a lot of backlinks, you can judge it as a reputable site.
Backlinks from highly recognized sites are better than multiple backlinks from less recognized sites.
On the Google console, Naver can check the list of backlinks in content spread, but it can't check the domain level, so you don't know where you get a good score when you get a backlink.
So you can find a good site by measuring the backlink on Ahrefs site and checking the domain ranking (DR) and backlink.
2. Flipboard Domain Rating

If you look at Ahrefs' measurements of whether sharing on flipboard sites will give you a good score, you can see that your domain rating is significantly higher, at 88.
It's good to share in many places to increase the number of visitors, but being mentioned on sites with a high domain rating may be better affected by SEO (search engine optimization).
Twitter and Facebook basically share a lot, but I've seen articles and measurements that say it's hard to get good grades if the number of followers is small. As such, it is important to be mentioned in a place that has been in operation for a long time and is well-managed.
Therefore, many people who run websites and blogs share them on representative SNS such as Twitter, Facebook, and Bingle, and many people visit places with high domain ratings such as flipboards.
Since I learned about the backlink, I've known flipboard and I've been sharing my writing. And I am leaving a link to my site post after finding, sharing, or writing a blog, cafe, site, etc. that has a high domain rating.
Backlinks are not applied immediately, but only when the link for 2 to 3 months is not disconnected, so it is recommended to work steadily.
Then let's find out how to share blog posts that can be simple.
3. Share Flipboard Articles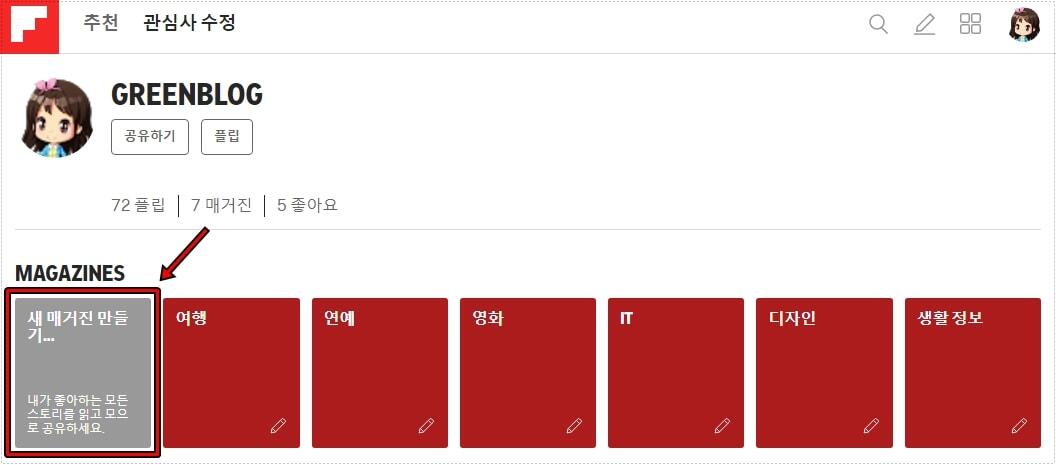 If you join the flipboard and enter the upper right profile, you will see the 'Create a new magazine' button. Click this to create a magazine for each topic as shown above.
If you have created a magazine, tap the pencil shape next to the profile on the upper right and you will see a shared screen. After selecting the magazine you created here, enter the link and description, and press the flip button to share it.
There is a way to do it with a Chrome extension program, but I am doing it directly on the website because it does not work properly. It's also available on mobile because there is an app.
Users only see articles on topics they are interested in, so it's better to divide them into topics and manage them rather than integrate them.
Although there are few domestic users, certain topics can be expected to flow in, and it is good in terms of SEO due to the creation of backlinks, so if you haven't shared them, please share them on the flipboard every time you write.
▶ How to set and share YouTube playtime
▶ How to keep the taskbar from previewing