"Add features to help you manage your Instagram followings."
It is not easy to manage Instagram followings used by the most people all over the world. However, on February 6, the head of Instagram said in a tweet that he will add a category that will allow him to see the least interacting account with him for 90 days and that testing is currently underway.
This feature shows two things: a list of accounts that have little interaction with you and the accounts that are most visible in your feeds. Simply put, I can see a list of people who don't interact with me often and people who do a lot of activities.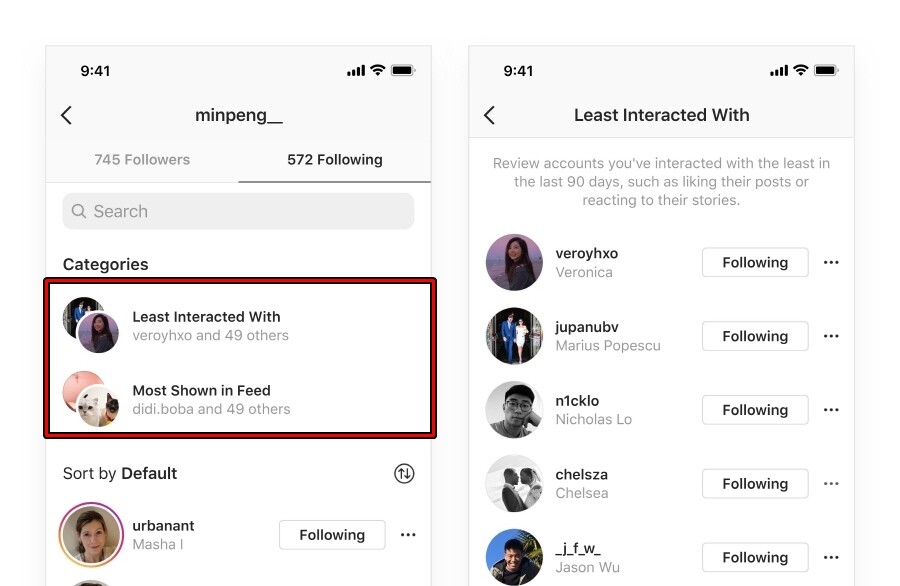 This function is currently being tested in the United States, and the method of use is to enter the profile after accessing Instagram and tap Follow, and you will see the categories marked above.
Least interacted With is a feature that displays accounts that do not interact much.
Most Shown in Feed is the ability to view the accounts that are most visible in the feed.
The sort order can be sorted to the point at which you started the follow by pressing the button that is up and down.
If you have more Instagram followers, it's not easy to know about the account you're interacting with. So with the addition of these features, you can see accounts that don't interact with you and know which accounts are more active, making it easier to manage accounts that don't interact with you and more focused on active accounts.
When I did Instagram, I applied for a lot of followings to increase my followers, but I think it will be easier to manage if this function is added.
The update of the function is expected to proceed with the test like deleting the like mark and update globally when good results are obtained. I think it will be introduced in order from where there are many users, as the previous update process was conducted by country.
It's good to see the comments on the current tweet. In the case of deletion updates, users have been strongly opposed, and most people say that this function is good so far.
However, given that the date of tweeting about the feature is recent, I think there will be a variety of responses when users use the Instagram follow-up management function.
▶ Launch Facebook Watch Music Video Service
▶ 'Custom image' application to resize photos