"What is the difference between YouTube Gaming and Twitch, which started the game broadcasting service? "
Many platforms came out in the name of real-time streaming. It's a real-time broadcast.  Some people are watching the show because they have fun watching other users play games or want to know the latest strategies. Because there are many users who want to watch it like this, YouTube also tried to provide game broadcasting services.
At first, he tried to take over Twitch, the undisputed No. 1 player in North America, but was forced to step down from the issue of monopoly. So what I made is YouTube Gaming. It's released now, but it doesn't have much influence yet.
It's still early, but it's said that it's lagging behind Twitch, which has a relatively large number of streamers. YouTube is also making a lot of efforts by recruiting popular streamers and giving them better benefits in terms of profitability. Then I'll find out through the website.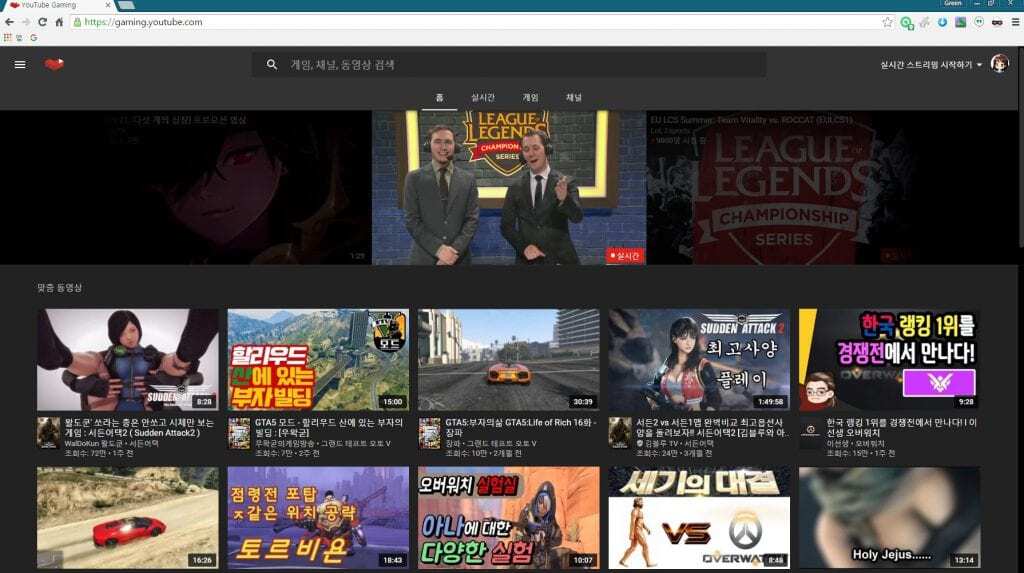 If you access the site first, you can check out Google ID right away. If you look at the first screen, you'll see a customized video based on what I've been interested in while watching YouTube. YouTube gaming also allows you to watch videos. It comes out in the form of a list below, so you can watch non-real-time game videos.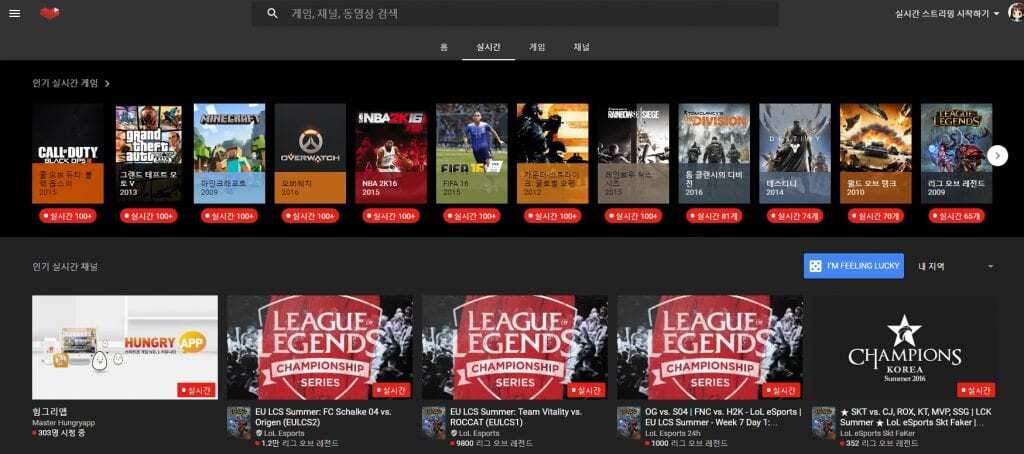 If you select real-time in the category above, you will see a popular real-time game on top. Popular things will come out, and if you press this place, you will see a list of BJs that are currently broadcasting.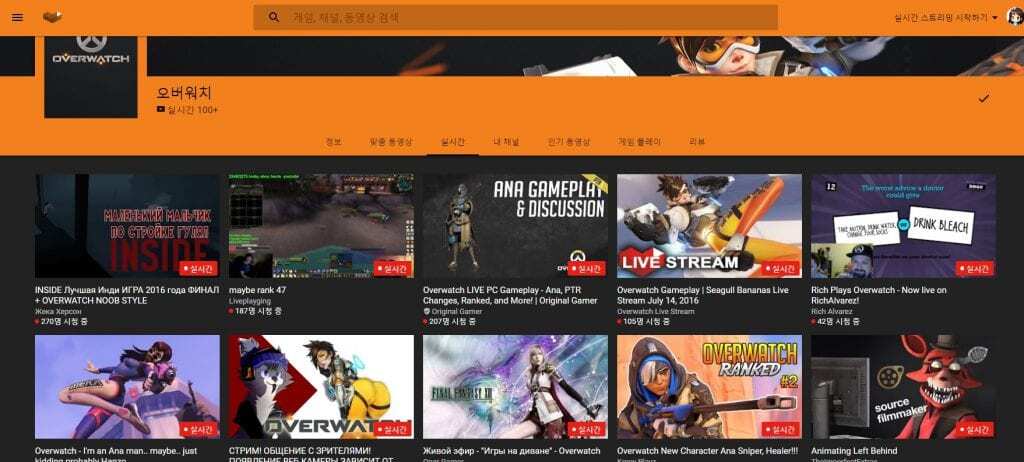 I chose Overwatch among them. You can see the list of BJs who are currently broadcasting. What's different from the existing YouTube is that you can also see video clips and real-time broadcasts of games.
Because of that, people who like games can watch it through search, but they can access it more easily.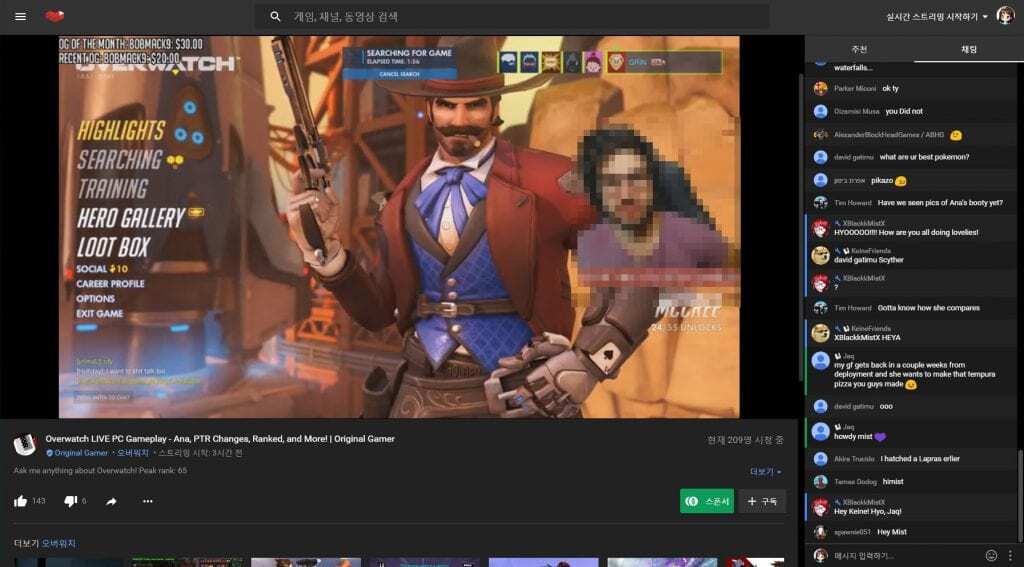 I've been watching a broadcast. It has the form of broadcasting that we've seen before. But I can't help but look so similar to Twitch. But the platform itself is the same as YouTube. If you look at the bottom right, there is a subscription with the sponsor.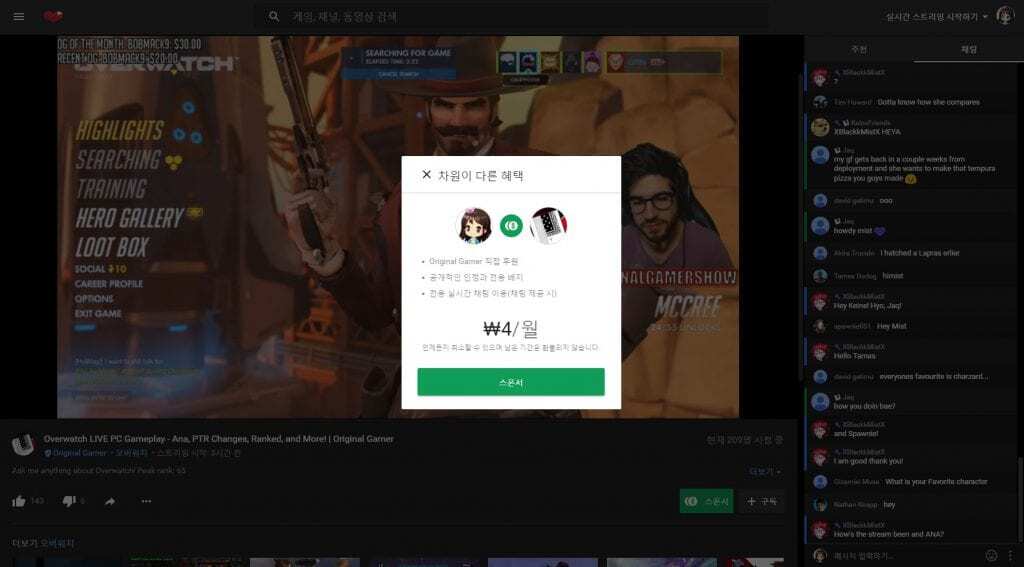 1. What are the benefits for streamers?
First of all, no matter how good the game is, it's natural to want a profit. For Twitch, if you don't become a partner streamer, you won't get advertising revenue, you'll only get sponsorship. Then, how is the game broadcast YouTube gaming? If you have a Google AdSense account, you can get it without being a partner streamer.
In the lower right corner, you can pay a certain amount of dealers per month and benefit from the sponsorship. You can have a dedicated real-time chat with a dedicated badge. It says that this sponsor can be canceled at any time and that the remaining time is non-refundable.
So far, if you've talked about profitability, you can also have an opportunity to increase subscribers by broadcasting on YouTube in real time. If you watch the game broadcast, you can see the category of recommendation along with the chat on the right. If you press here, you can see the list of various videos uploaded by the streamer.
This allows game broadcast streamers to promote their own videos. This is also an opportunity for YouTubers who have revenue from Google AdSense to increase subscribers and view counts.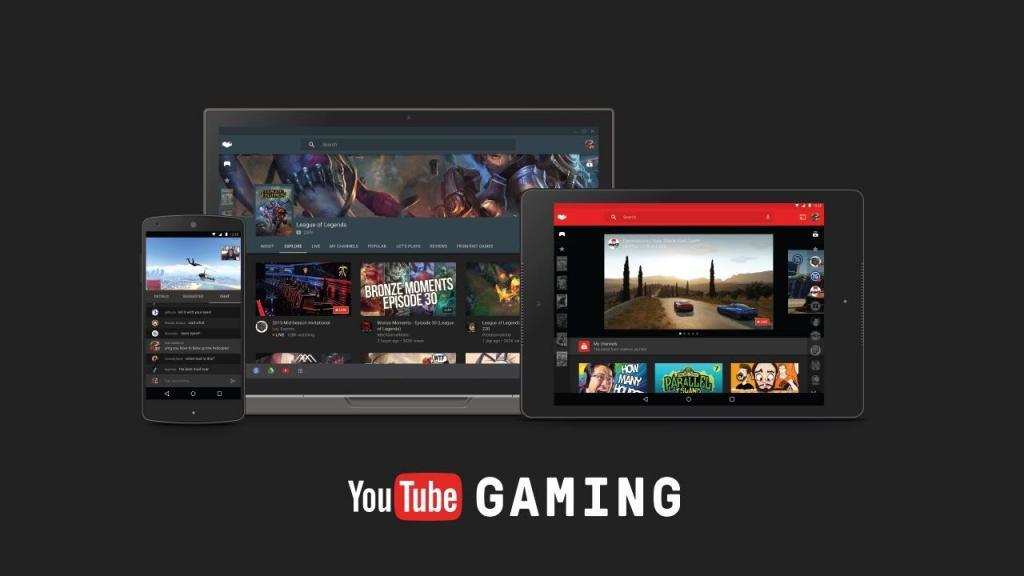 2. Can I win the competition against Twitch?
This part may actually be premature, but it's made on YouTube, which has a lot of users, so I think we can catch up with Twitch to some extent if we try to recruit streamers with various marketing. But in the current situation, we're losing ground to Twitch, who has a wide range of profitable benefits, but has some very popular streamers.
How about in Korea? Since Africa TV is located in the past, it will not leave where many users are. And so do the subscribers. In case of Twitch, streamers sometimes do it at the same time.
If viewers choose among game broadcasting platforms, I think it would be natural to choose where the most BJs are gathered. So far, winning the competition with Twitch seems to take a lot of effort. It's because it's quite hard to go beyond the preoccupation effect.
Currently, Korean viewers and streamers are showing great interest in Twitch and YouTube gaming, but they often enter with curiosity and even foreign users are often fans. However, it will take a long time to settle down and attract a lot of users, given that it takes a lot of effort to choose the existing African TV.
Today, we've learned about game broadcasts that people who like games will be interested in. I think we should wait and see since it hasn't been released for a long time. If you want to see foreign streamers' play, you can go in. It's probably because they play quite differently.  – More: The YouTube gaming app ended in September 2018, but you can see it in the category game on the left side of YouTube.
▶ Additional features to manage Instagram followings
▶ Launch Facebook Watch Music Video Service