When I take a picture, I want to put in pretty words. But if you can't use a program like Photoshop or if you don't have a font you like, you can use a calligraphy application to put in pretty words.
The application I'm going to introduce is Callie Lang, which has a lot of users and a high GPA, so I'm using it too, and I'm using it comfortably when I'm writing fast. And you can also bring up the PNG file that you worked on in Photoshop, so you can quickly add the words if you make a lot of things.
1. Calligraphy Application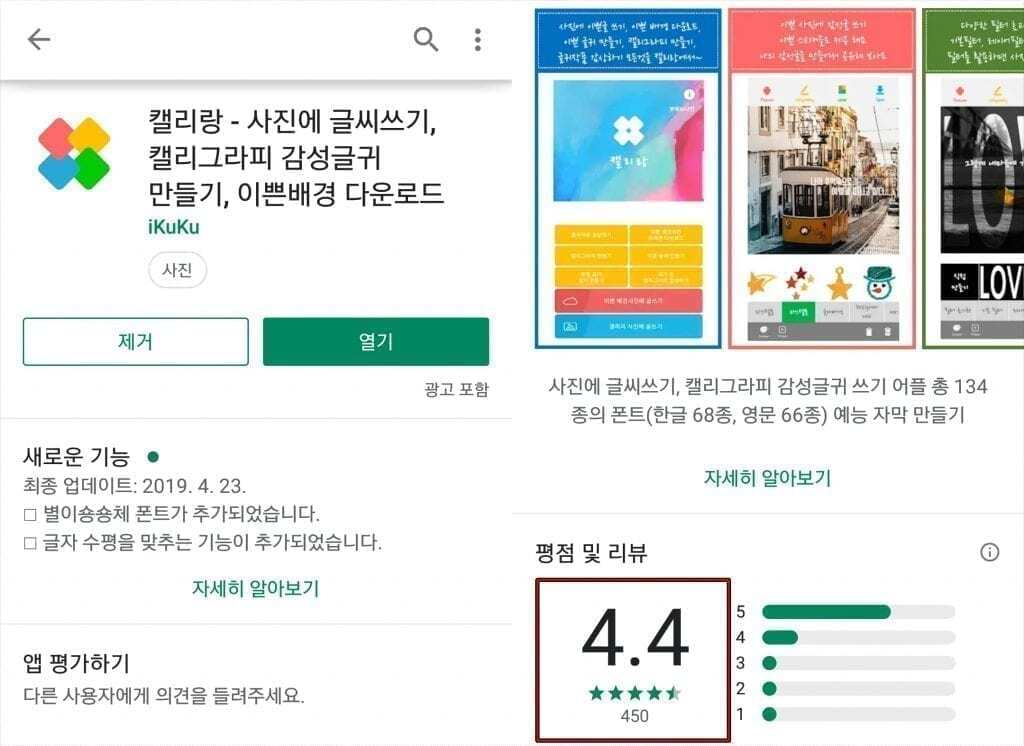 If you search for Callilang in Google Player, you can find it, and you can see that it keeps updating, and if you write a review, you can reply. There are various Calligraphy applications, and among them, the rating is 4.4, which is a good response.
2. Writing to Background Pictures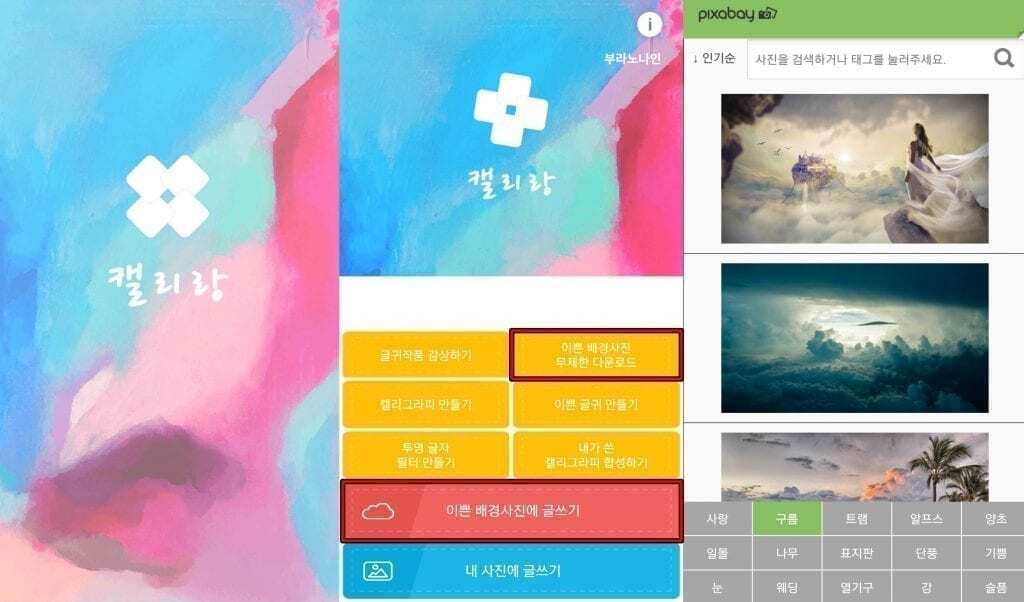 If you install Callie and run it, the menu will come out. Here, unlimited downloads of pretty background photos allow you to download any background image you want by viewing the pictures on the free image site Pixabay by category.
If you found a pretty background image, you can add calligraphy by clicking the Writing menu below in the pretty background picture.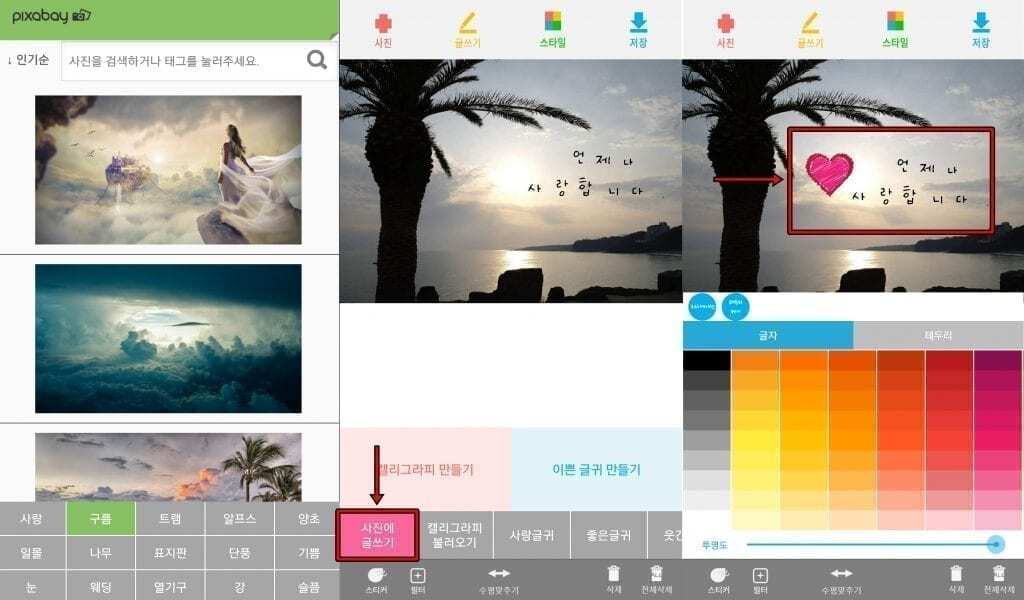 When you enter a pretty background picture as writing, you can select the picture, and when you're done editing the picture, you'll get an edit window that you type in the calligraphy. From here, you can add calligraphy by selecting Calligraphy Calligraphy, Love Letters, Good Words, etc.
You can also change the font color and border and add stickers.
3. Various types of writing
You can also type it yourself, but you can select the type that is pre-created. If you look at the bottom, there are love letters, good words, funny words, and seasonal words. If you click on them, you can see them. There are many pretty letters, so you can add them to the image as soon as you choose.
4. Writing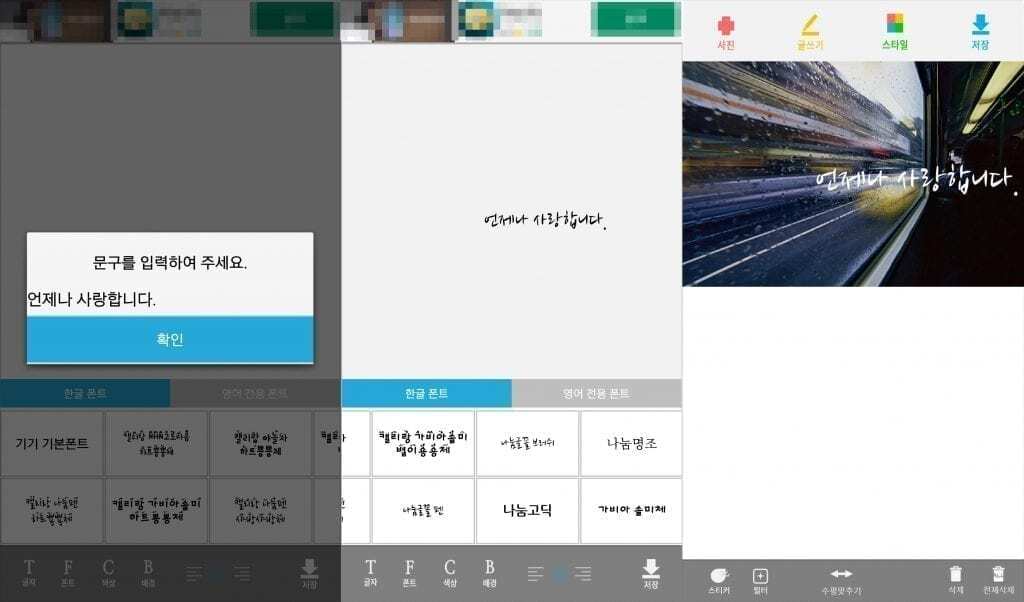 If you do it for the first time, you might be confused. If you click on the letter at the bottom, you can enter a phrase and zoom in, zoom out, and rotate with your finger. A lot of people are asking about this part in the review, but I knew how to use it after reading the developer's comments.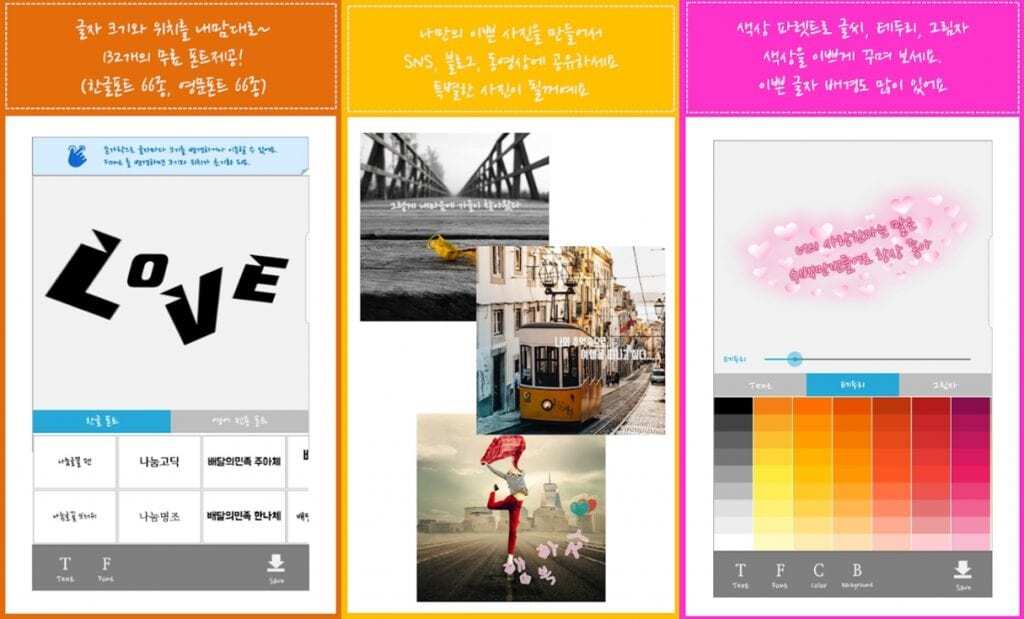 It's not that difficult to use the calligraphy application, and there are many different words, so you can put pretty words in the picture. If you want to add pretty words on SNS, please install Callie Lang and share your own words.
▶ 'Custom image' application to resize photos
▶ How to add Excel and use SUM function
▶ Replace excel row with columns To use the Paste option