The YouTube video chapter function has been added on the 28th. This feature allows you to use time stamps in comments or comments, or show the image title, on the image timeline (progress bar), so that you can quickly see the long image in paragraphs.
However, there are fewer people using the video chapter function so far because there are concerns that they may not watch the video until the end.
And the reason why it is hard to use in Korea is that the video chapter does not work because Hangul is not recognized. Therefore, it is inconvenient to enter Korean after entering English first.
If it is modified through future updates, the number of users may increase, but it is unlikely that the number of people using it will increase quickly in Korea, given that only English is available now.
However, if you don't get the information you want quickly, you don't watch it, so if you use the video chapter function, you can see the information you want quickly, so it's a good function.
Then let's find out how to use the newly added YouTube video chapter function.
1. Add Timestamp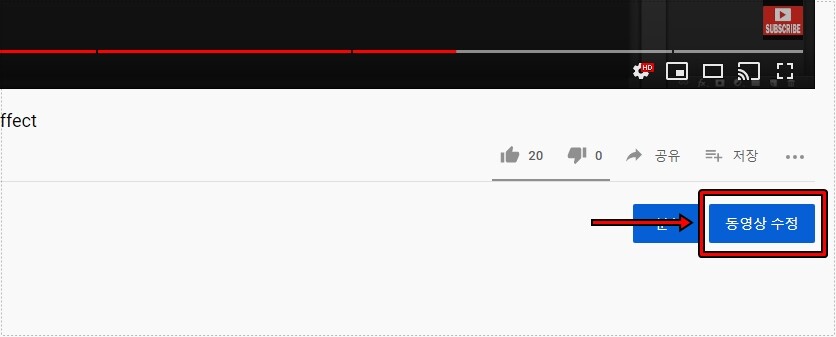 If you want to add a video chapter to an existing uploaded video, you can see the video modification in the lower right corner while you are logged in. You can click on this.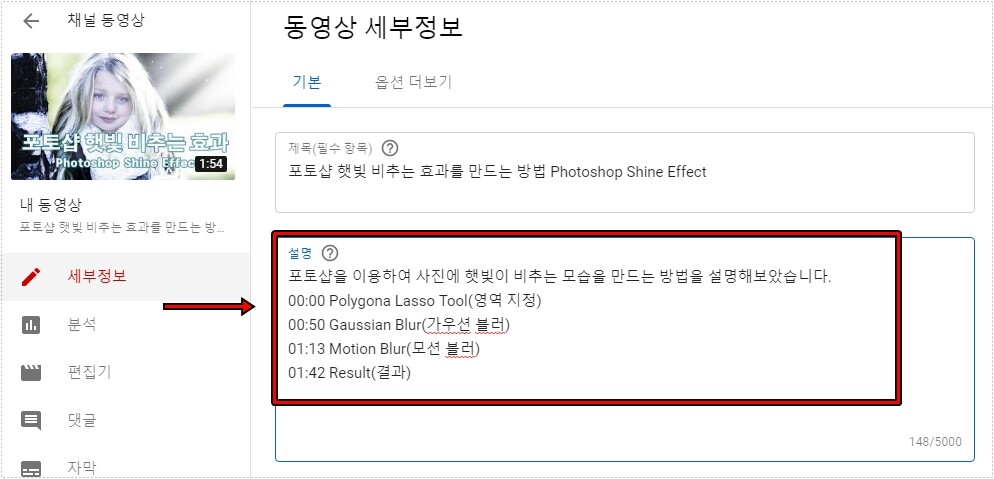 If you go into the video modification, you can enter the time stamp in the description here. But there are conditions for activating the video chapter, so I'll find out.
The first timestamp must start at 00:00.
There must be at least 3 timestamps in one movie.
The minimum length of the video chapter is 10 seconds.
You have to meet the above conditions to see the YouTube video chapter, where the Korean language has not been modified at the moment, so you have to add it in English as shown above to get the chapter.
2. YouTube Video Chapter
When you add a timestamp to the description, the timeline (progress bar) is distinguished as shown above, and the phrase (title) appears below. And even if you hover your mouse, you can see the phrase you entered and see what it's about it.
In case of long videos or classes, you can see what kind of video is at a glance. It's a great function. I recently saw this feature in the concert video and added it to the video I uploaded. The producers said it's not good. Please think about adding it according to your video.
▶ Three Extensions to YouTube Capture
▶ Repeat the YouTube section Program
▶ Introduction to a site where you can extract YouTube subtitles