It's okay to use a convenient editor when you write mail, but if you don't, you can write it comfortably and send mail in bulk if you use MS word. The MS Word Mail feature is linked to Outlook, so you can load and send the address book after creation.
If you usually use MS word and send mail regularly from meetings or organizations, it will be useful because it is a convenient way to write and send mail.
1. Merge MS Word Mail Letters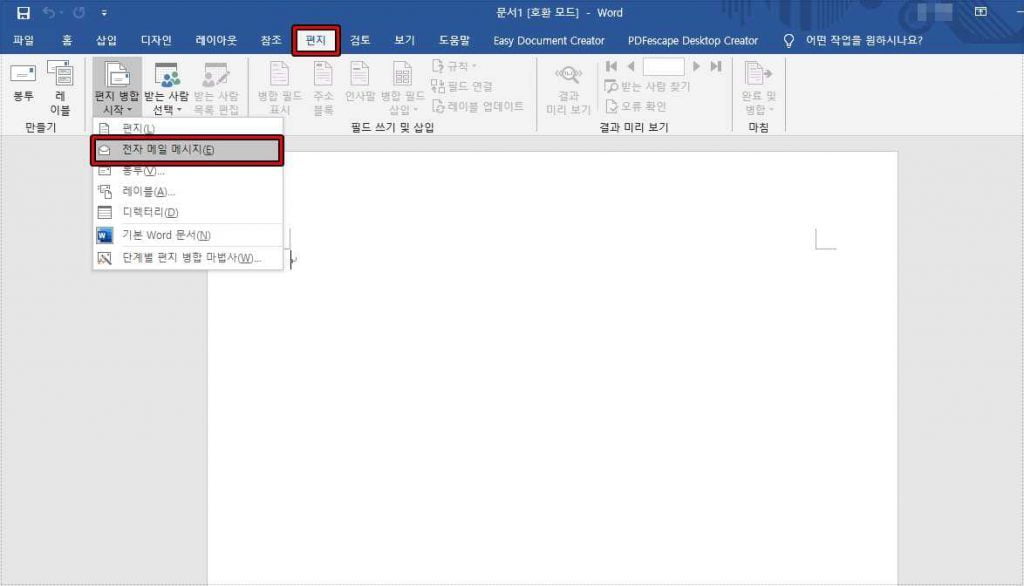 If you run MS Word and look at the top menu, there is a letter. When you click this, there is something called Begin Mail Merge and you can click to select an email message.
Then you can write an e-mail, but you can use MS word functions, so you can write it more comfortably.
2. Select recipients – Enter a new list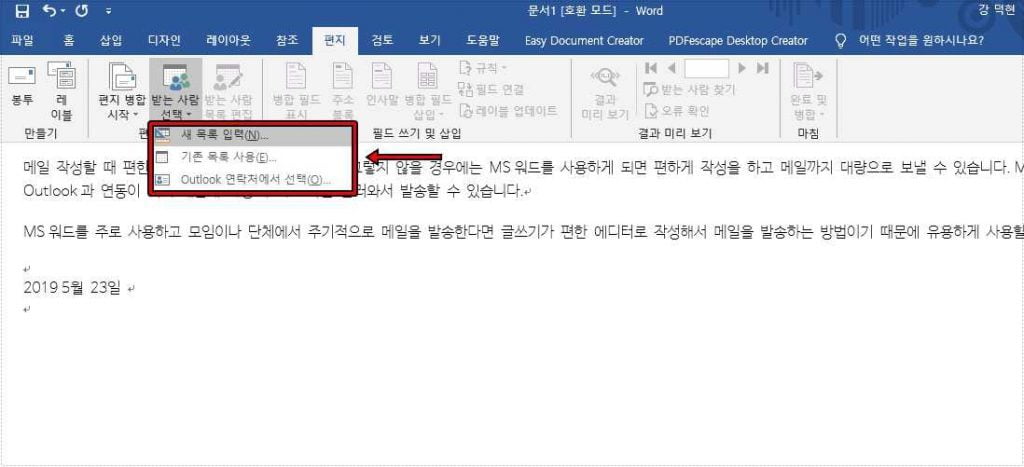 Once you have created your mail, you need to set the address you want to send, but if you click Select Recipients in the mail tool, you can select New List Entry, Use Existing List, or Outlook Contacts to set up recipients. Let me explain how to enter a new list.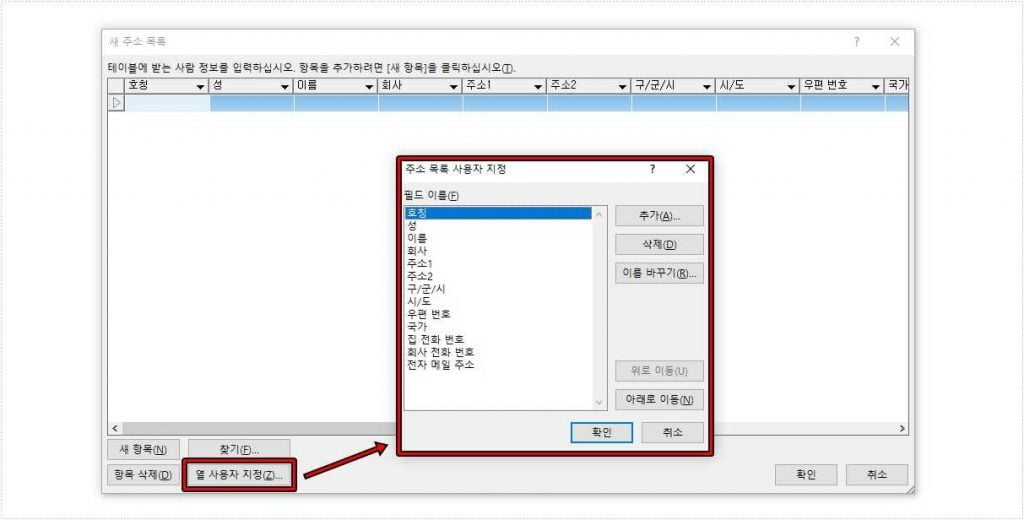 When you select Enter a new list, the above list entry window appears, which can be complicated by too many fields, so you can click Customize Columns at the bottom to delete unnecessary columns or rename them to create a list of recipients.
1. To add a new item to the list, click Add New Item at the bottom or press Tab.
2. To delete an item, click on the item and click Delete Item at the bottom.
Once you have created a list of recipients, you can click OK to save the list of addresses on my computer.
3. Insert Merge Field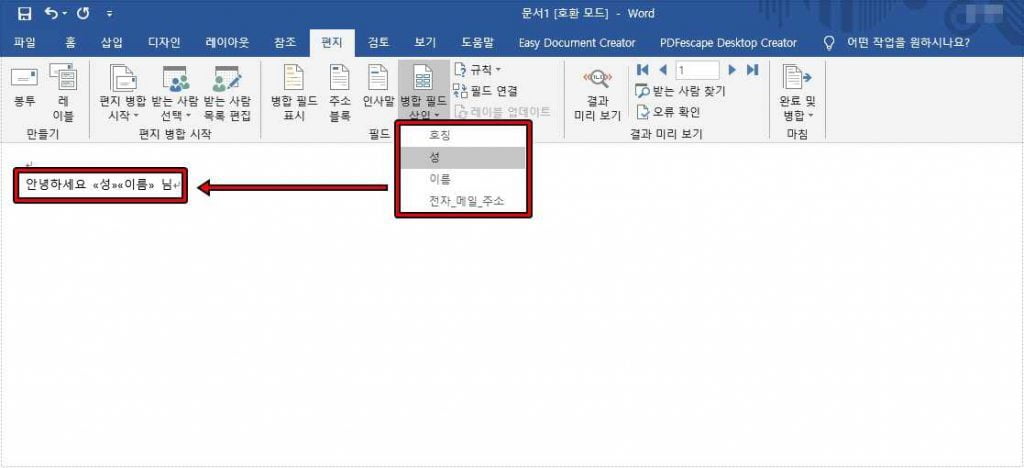 You can add fields from your mail address list, but you can add them when you click Insert Merge Field. This feature allows you to add names and outliers in your address list, as shown above, so it is automatically entered and sent when you send mail in bulk.
Traditional shipping methods are convenient because if there is a phrase that needs to be sent only to a specific person, it should be added one by one before shipping, but if you use the Merge Field Insert function, it is automatically entered.
 4. Completing the merge and sending mail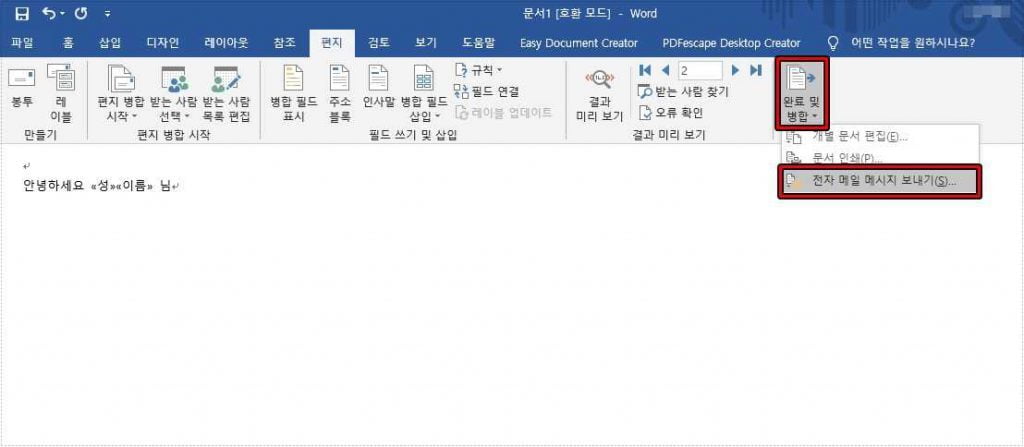 Once all settings have been completed, the merge should now be completed, but you can click Finish and Merge at the far right to click Send Email Message.
When you select Send Email, the Merge as Email option window appears, where you can select recipients as your full mail address and click OK to run Outlook and send MS Word Mail.
If you know how to use it, you will be able to send mail comfortably because it is convenient to send mass mail using MS Word mail.
▶ A comfortable download program for Twitch TV videos
▶ Extensions for downloading Facebook videos
▶ A free program that compares duplicate images to find them